CAdEngage means maximum of attention for your brand. We will gladly tailor our CAd player individually to your needs. Please contact us!
Your contact person for campaign requests:
Sven Hoffmann
Director Sales
+49 0(89) - 237 129 - 23
[email protected]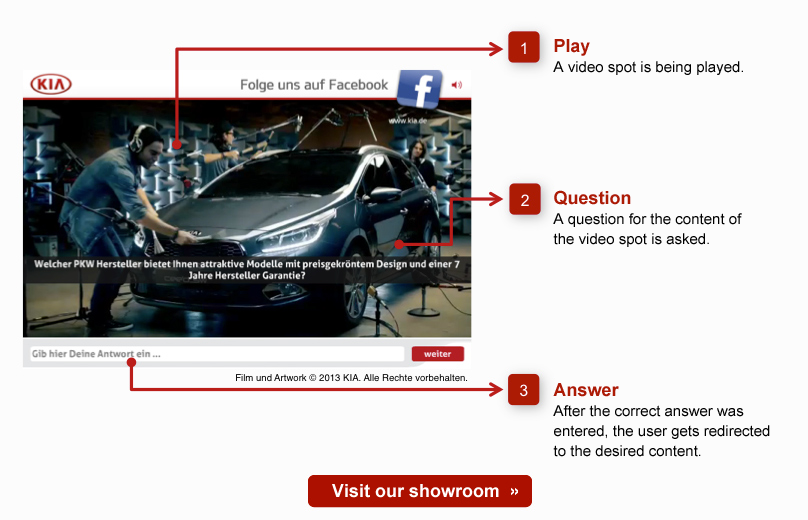 CAdEngage - the user engages in your brand
CAd is an interactive online video format. Through its unique make up, it offers completely new possibilities of brand communication and creates an above avarage advertising effect, as well as a dialog with the user. As a premium means of advertisment, CAd is being incorporated into select places offering additional value, and perceived by the user in a positive context.
CAdEngage means, that the user has answered the question proposed in the advertising clip and therefore actively engaged himself in the brand. As an advertiser, you directly get feedback from the user about your product.
Maximum advertising impact thanks to "cheat sheet effect"
The user pays 100% attention to your ad, which leads to an extremly high advertising effect. In an advertising impact study in cooperation with Fresenius University of Applied Sciences and MITSUBISHI MOTORS Germany the "cheat sheet effect" was proven: people remember ideas much better, after they have written them down.
Direct the attention to the right direction
The question-answer-systematics of the CAd player affords you an opportunity to specifically communicate the USP of your product or basic message of the current campaign. Some examples:
Which automotive manufacturer offers you a seven-year-manufacturer's warranty?

When is the new Brad Pitt movie released?
Where can you learn to play poker for free in the world's largest poker school?
Which brand now offers the delicious chips Rot-Weiss Schranke?
For more examples, please visit our showroom.
Positive context: additional value
CAds are always being integrated into processes where the user gets rewarded with added value by the publisher. For example in a lottery, to unlock premium content or to access special functionalities for which the user would otherwise have to pay money for. Where else are CAds embedded?
High click rates through high attention
The undivided attention of the user not only results in a high advertising impact, but also in high click rates. When a user clicks on the video, he gets to your product's website. The Branding Area of the CAd player offers moreover an additional and clickable area for call-to-action elements:

Player formats
Both Standard (300×250 pixels) and XL-Player (600×400 pixels) are bookable with or without Branding Area.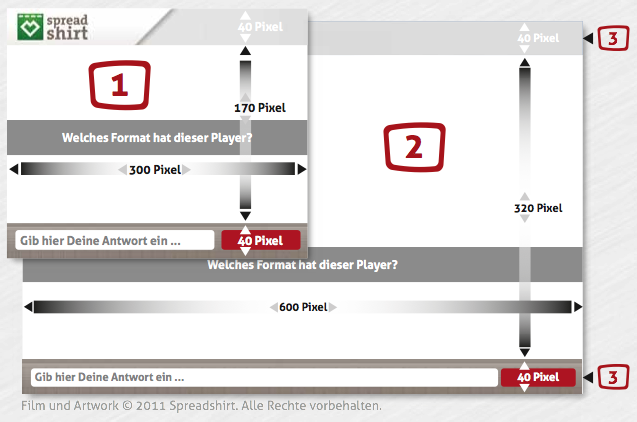 Flexible payment models and comprehensive reporting
Whether CPM, CPC or CPE (Cost per Engagement), our payment models are flexibly determined by your campaign's needs. Our technology moreover makes it possible to measure a variety of parameters and to analyze the feedback of the user directly. All user's actions are documented conprehensively - including view-through-rate, clicks on the video, clicks on the branding area and given answers.