Whether as effective SPAM-protection, user-friendly Pre-Roll or as a tool for monetising premium contents and services: CAds offer publishers a numerous amount of application possibilities. We will gladly help you to find the appropriate spots on your website. Contact us!
Your contact person for publisher-related questions:
Andreas Pfeiffer
Head of AdManagement
+49 (89) – 411 47 109 – 9
[email protected]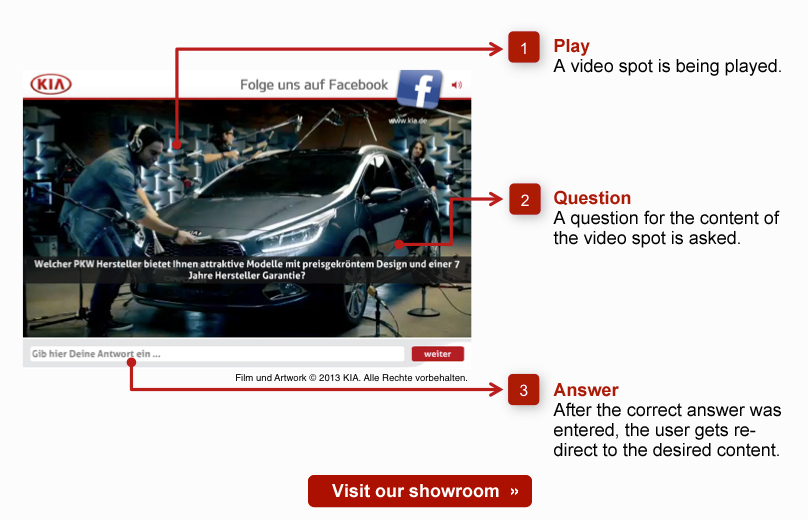 CaptchaAd creates new moving-image media penetration
When you think of moving-image advertisment on the internet, you usually think of Pre-Rolls, so advertising clips before moving-image contents. CaptchaAd offers publishers, who don't have their own video content and therefore can't offer Pre-Rolls, a possibility to build up moving-imagemedia penetation in a manner that is accepted by the user – without having the need to produce expensive video content.
CAds can be implemented into many areas
CAds are being implemented in a user-friendly manner, whereby the user acceptance is high. In the past years we have developed a large portfolio of implementations in three core areas:
CAdCaptcha: Replacement of traditional CAPTCHAs
CAdwall: For monetisation of premium content
CAdRoll: User-friendly replacement of ordinary Pre-Rolls
All implementation spots have in common that the user finds himself within a process where at the end he receives additional value from the publisher. Before he is granted the additional value, he has to solve the CAd.
CAds achieve high CPMs
CaptchaAd combines moving-image advertisment with interactivity and with this achieves a very high advertising effect. Therefore CaptchaAd reaches exceptionally high CPMs.
CAds are user-friendly
The question in the spot can be solved fast as the answer can easily be found within image and video. Furthermore, the input generously allows for spelling mistakes. As CAd is a fresh and innovative advertising medium, the user reacts particularly interested. In our showroom you can find some CAds for tryout.