We will gladly support you in integrating CAd into your website.
Contact us!
Your contact person for publisher-related questions:
Andreas Pfeiffer
Head of AdManagement
+49 (89) – 411 47 109 – 9
[email protected]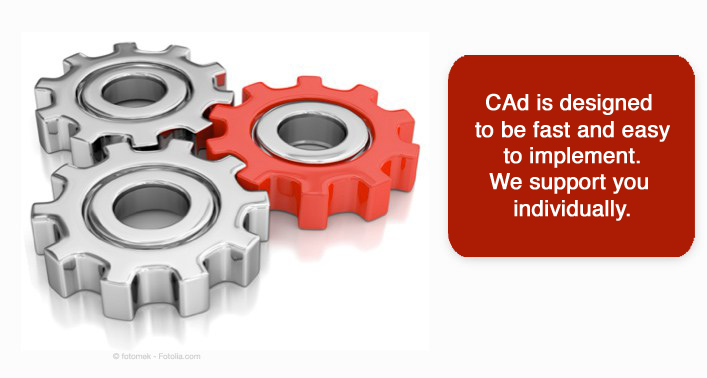 How to implement?
CAdCaptcha by using integration packages for Java- and PHP-based websites or a WordPress-Plugin (security variation).
CAdwall by using a slim JavaScript-tag (advertising variation).
CAdRoll is VPAID-capable and can be implemented particularly easy into an existing player (advertising variation).
CAdCaptcha – the security variation
The CAd security variation (CAdCaptcha) combines video advertising with best possible SPAM-protection. It is – in opposition to the advertising variation (CAdwall, CAdRoll) - being integrated nativly on the website. Therefore you have integration packages for PHP and JAVA as well as a plug-in for WordPress.
If the CAd is not correctly implemented on the webpage or if Flash or JavaScript are deactivated in the user's browser a reCAPTCHA is shown instead in order to maximize and ensure safety.
CAdwall / CAdRoll - the advertising variation
The CAd advertising variation is an interactive advertising format that allows to monetizes new parts of a website, plus already existing parts superior. Therefore the security variation is not to be to the fore when using CAdwall and CAdRoll.  As there is no need for security the integration can be handled much easier and more flexible by publishers, by simply adding a few lines of JavaScript code to a page.
It is also possible to integrate an automated skip, that means that a user does not have to type in the answer.
The advertising variation is usually integrated as a PreRoll replacement, CAdwall or within interaction processes.
How do I get an API-Key?
In order to implement CAd on your website, you must be registered as publisher. After the registration, you will receive an API-Key as well as an comprehensive document of the integration.
To register, please send us an informal email to [email protected]. Please also attach your current media data.